Photo credit text
---
Robert J. Trulaske, Jr. developed the Foundation's mission statement, vision and priorities which the board closely follows. In 2014 and 2021 the board completed strategic planning in order to strengthen their decision making process and clarify specific priorities. During that time, the mission statement and grant guidelines were updated accordingly. On the Program Areas page you will find descriptions of the Foundation's primary interest areas.
Environment
Natural Resource Conservation
the conservation, restoration, protection and management of important ecosystems and flyways
Watersheds of the Mississippi, Missouri, and Meramec Rivers within the St. Louis Metropolitan Region
Remnant prairies and grassland habitat in Missouri
Environmental Justice
the establishment of Native trees and plantings in the City of St. Louis and north St. Louis County
Weighting Criteria & Rubric: Ecological Justice, Environmental Justice, Climate Justice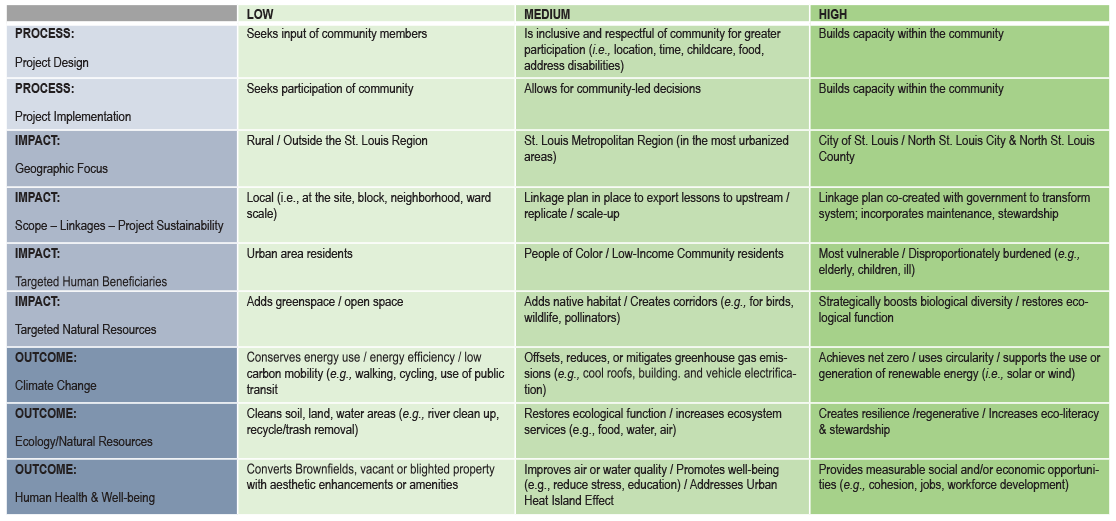 Historic Buildings
Conservation, protection, management and restoration of endangered buildings of historical, cultural and preferable aesthetic significance in the City of St. Louis.
The Foundation is specifically interested in buildings housing nonprofit organizations.
Overall
efforts that engage St. Louis nonprofit organizations, neighborhoods, neighborhood groups and government bodies focused on addressing racial and social-economic disparities present in St. Louis.
Grant Size
Minimum Collective Grant amount $15,000.
Maximum Collective Grant amount $500,000
The Foundation will consider two-year grants
Grants Outside of Missouri
The grant amount may total $20,000 to $40,000 over two years at each location. Only one organization may receive a grant at each location at a time.
Projects in the areas below are currently eligible for funding
Northern Michigan (Leelanau County)
Maine (Portland)
The Foundation will not fund:
Grants outside the Mission and Priorities of the Foundation
Organizations that lack proof of current IRS tax-exempt, charitable 501(c)(3) status
Grants, scholarships or loans to individuals
Donations to fundraising events
The Foundation does not fund projects where the sole purpose is advocacy, education or research. It will consider funding projects that incorporate limited advocacy, training or research activities, when those functions are integral and subsidiary to the project.
Collective grants do not support general operating expenses. However, in special circumstances, the Foundation will consider time-limited operating support for organizations implementing grant funded projects.